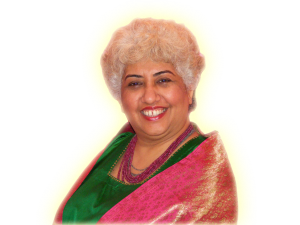 Founded by Guruji Sri Sri Poonamji, Design A Cuisine was created to provide real, tasty and healthy food to the public.
After spending her educational years in India and England completing her MA and MBA, Guruji Sri Sri Poonamji started working with industry-leading scientists in the Himalayas on the healing properties of pure essential oils. She conducted groundbreaking experiments with flower, crystal and gem elixirs in Australia for more than 18 years, and continues to do so in Singapore today. She uses the insights from this research in the preparation of Design A Cuisine food creations, using precise essential oil and herb combinations to maximize both the taste and healing properties of the food.  While run as a business, her ultimate goal is to help individuals heal their lives in totality through food, removing pain and energy blocks stored within the body.  This healing process will ultimately assist diners to lead a more fulfilling, abundant, and purposeful life in totality.
Sri Sri Poonamji decided to found Design A Cuisine after noticing the changing nutritional requirements for the increasingly stressful and time-constrained professional and family lives the public now leads.  Our urbanized living also sees us at an increased distance from natural sources of sustenance, increasing the risk of health issues such as cancers, depression, and rapidly mutating viruses and bacteria. Additionally, she was concerned by the increasing prevalence of genetically modified plants and crops grown in artificially manipulated conditions, using DNA from animal sources that are chemically unrecognizable by our body's digestive system, and are sold for taste and profit alone without full consideration of their health implications.
Guruji Sri Sri Poonamji felt these risk factors needed to be countered using ancient wisdom of food preparation, returning natural sustenance to our food supply through holistic food. In addition to ingredients being grown naturally and cooked properly to maximize health benefits, Sri Sri Poonamji's unique use of herbs and essential oils maximize the flavor of the food. This allows natural vitamins and minerals to be automatically absorbed by the body, while you enjoy peace of mind and completely relish your meal!
Ultimately, Design A Cuisine goes beyond profit – Guruji Sri Sri Poonamji emphasized upon founding that the true goal is to educate the public on the energetic effects of food selection at the physical and mental level, and how these effects directly correlate to a higher standard of living for the individual, as well as society as a whole.